I just called...to say...no wait. I didn't call.
I was having a chat with a friend a few days back and we came to the topic of talking on the phone.
It got me thinking about things.
I can't tell if this is a good or bad thing.
I'm the sort of person who'll hear her phone beeping when its battery is dying, shrug and let it die.
I'm completely comfortable with leaving it there, dead, battery discharged, for days.
I used to get into tiffs with friends who would complain because they'd think I was purposely avoiding calls, but here's the truth : My cell phone is almost always on silent mode. Lying in the corner somewhere. I don't pick up calls coz (surprise)...I don't hear the phone buzzing.
Now about making calls. I've been accused of not caring enough to call. I almost never make calls..why? Not because I'm a snob..but simply because the thought doesn't cross my mind.
Yep, it IS as simple as that.
Lord knows I've been accused of being a lazy bum, and lord knows what I do with those 24 hours every day but making calls almost always isn't on the top of my list of priorities.
Does that mean I love my friends any less?
This is just my opinion but I doubt it. I've known people who talk to each other every other day, but take absolutely nothing away at the end of the conversation. I've been one of those people.
I've talked to long lost friends after MONTHS and felt so incredibly fulfilled and content at the end of the conversation.
I'm from the 'too-much-of-a-good-thing...' and 'less-is-more' school of thought (haha SOMETIMES.)
I was told that perhaps I'm a bit scared?
But of what?
To get close to people?
I'd like to think that I get as close to people as I want to, or as far as I have to.
I'd like to think that a phone call doesn't really tell you didley about how close you are to a person.
And I'd like to think that if you're meant to know someone, it'll happen in its own time.
On another vein-
Words are exactly just that- words, at the end of the day. They are thrown around a lot but mean nothing without context.
But that's just me.
What do you guys reckon?
A little food for thought.
In the mean time..a piece I've just finished..I still need to touch it up quite a bit.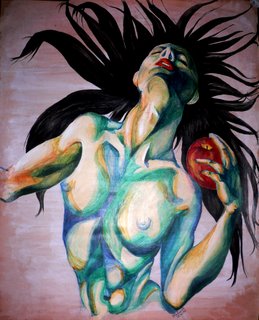 Addendum - I was contemplating naming this one 'Knowledge' and then I read the adorable Lil Bohemia's comment (budding artist and daughter of the yummy Miz Bohemia, as you might have guessed). She said "Wow! I like your painting. It looks like she wants to kiss the sky!"

How apt! :)

'Knowledge' it is then.
Labels: artsy fartsy, issues, photo